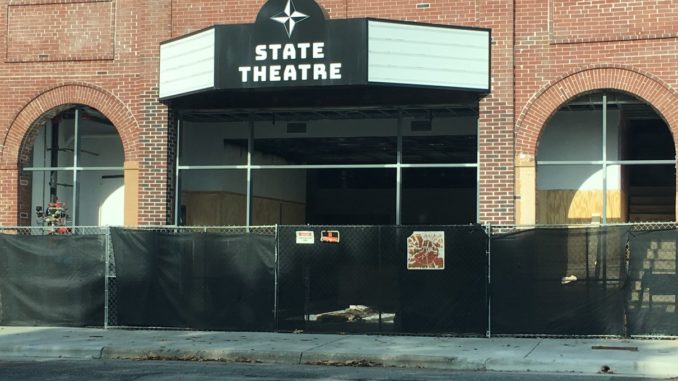 Don't let the barricade fence, plywood wall panels, and lack of window panes fool you….the State Theatre will soon be open for business! Tickets are still on sale for the Whiskey Myers show, scheduled for just 13 days from now, so this hollow, construction-zone-like appearance is nothing to worry about!
The State Theatre's development hasn't been without problems, as the opening has been delayed several times over the last few months. Shows that were scheduled from September to November have been canceled, or moved to other venues.
"Most recently, the delays were caused by Hurricane Florence, followed by the wildfires in Butte County, California." said State Theatre spokesperson, Louis Pearlman, "We understand the frustration this has caused our customers, and promise we're as close to opening now as we've ever been!"
In addition to the great lineup of shows already scheduled, the theatre has recently added the following exciting events:
The Eagles – Saturday, December 8th
Bette Midler – Saturday, December 8th
Michael Jackson – Sunday, November 4th
A crew of men hanging sheetrock – Saturday, January 19th
According to Mr. Pearlman, tickets to upcoming shows will include a surcharge of $10 for hard hat rental.