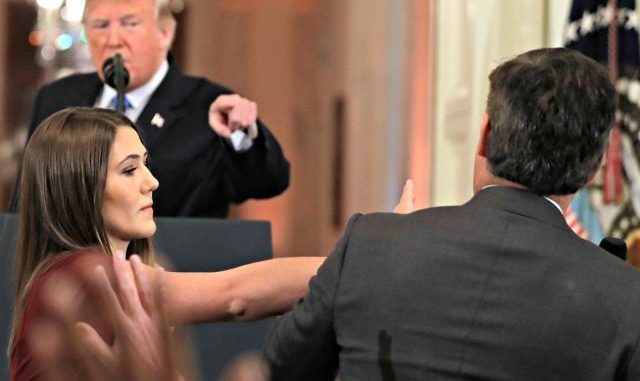 People just can't seem to agree on the latest viral illusion to hit the internet!
In much the same fashion as "The Dress" and Yanny/Laurel, the video of Jim Acosta's interaction with a White House intern during a news conference yesterday has viewers in a frenzy, with some seeing a benign brush of the arm, and others seeing an all-out physical assault.
In the video, Trump asks a determined Acosta to stop speaking, prompting the intern to retrieve the microphone. Jim refused to give it up, and what followed has sparked debate across the web!
Check out the video, and some of the controversy, below! What do you see? 😂
He did nothing wrong tho, when she grabbed it he lightly touched her, the fact he is no longer allowed in the White House as a result of this is mad. He was doing his job, asking the president questions.

— Jordan Pooley 🏳️‍🌈 (@TheJklay) November 8, 2018
She grabbed a microphone, that she is supposed to be in control of, he has no right to forcefully maintain procession of. We are screwed as a nation that we cannot even watch the same video and reach at least similar conclusions about it

— Nash Garrison (@KevinNashG) November 8, 2018
It's a natural reaction when someone tries to take something from you. You try to stop that person like that.

— Do Nothings (@TChaiLatte) November 8, 2018
She's doing her job, the mic is in his right hand, why did his left hand karate chop her arm down? No class Costa just wanted to keep talking. So disrespectful of a man ew

— Salo Olawuyi (@NaturallySalome) November 8, 2018
I don't think he swatted, looks more like she reached under his arm trying to grab the mic while he was gesturing downward.

— Halophila (@HalophilaOvalis) November 8, 2018